A Seafood Gem on the Iconic Pier
Nestled along the bustling Santa Monica Pier, The Lobster stands as a testament to the allure of fresh seafood and captivating ocean views. With a rich history dating back to 1974, this renowned establishment has consistently captivated diners with its commitment to quality, innovation, and an unparalleled dining experience.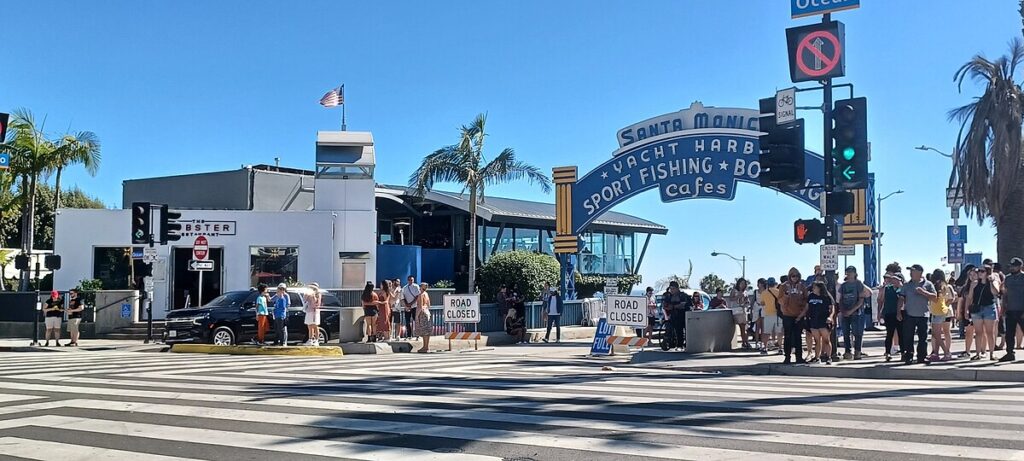 A Legacy of Excellence
In 1923, The Lobster burst onto the scene as a bustling seafood shack. However, it wasn't until 1950, when dishwasher-turned-owner Mateo Castillo took the helm, that The Lobster truly became the quintessential seaside haven it is today. Under Castillo's leadership, The Lobster flourished throughout the 1950s, 60s, and 70s, becoming a beloved fixture among LA residents and tourists alike.
Sadly, The Lobster's doors closed for several years in the 1980s and 90s. But in 1999, a family of investors breathed new life into the beloved establishment, reinvented it, expanded it, and reopened it to eager patrons. While the original structure was incorporated into the new building's main entrance, The Lobster as it stands today is a modern marvel, a two-story cantilevered building with glass walls that offer stunning views of the ocean and provide seating for hundreds of guests.
The Lobster's rich history is a testament to its enduring appeal. From its humble beginnings as a seafood shack to its current status as a renowned dining destination, The Lobster has consistently captivated diners with its commitment to quality, innovation, and an unparalleled dining experience.
What Makes The Lobster Unique
The Lobster's unwavering commitment to quality is evident in every aspect of the dining experience. From the sourcing of ingredients to the meticulous preparation of dishes, every detail is carefully considered to ensure an unparalleled culinary journey.
The restaurant's menu features an extensive selection of seafood dishes, each crafted with artistry and flair. From classic preparations such as lobster bisque and steamed clams to innovative creations like lobster tacos and seafood paella, there is something to satisfy every palate.
In addition to its commitment to quality, The Lobster also boasts a stunning location on the Santa Monica Pier. Diners can enjoy breathtaking views of the Pacific Ocean while indulging in exquisite seafood creations. The restaurant's elegant ambiance provides the perfect backdrop for a memorable dining experience.
Popular Dishes
Some of the most popular dishes at The Lobster include:
Lobster roll: A classic lobster roll made with fresh lobster, mayonnaise, and celery on a toasted bun
Clam chowder: A creamy and flavorful clam chowder made with fresh clams, potatoes, and vegetables
Seafood platter: A bountiful platter of fresh seafood, including lobster, crab, shrimp, oysters, and mussels
Pan-seared scallops: Succulent scallops pan-seared to perfection and served with a beurre blanc sauce
Chocolate lava cake: A warm and decadent chocolate lava cake served with vanilla ice cream
Address:
1602 Ocean Ave Santa Monica, CA 90401
Phone:
(310) 458-9294
The Lobster Reservations:
Click here for reservations

Menu:
thelobster.com/#menus
Sandwhich Hour ( Daily till 3:30 ):
( Prices may have changed )

Sandwiches – Offered till 3:30 Daily
Crisp Maryland Crab Po Boy
( Shaved Spring Slaw and Remoulade )
$30.00
Certified Angus Beef Cheeseburger
( Special Sauce, Charred Onion, Bacon Jam & House Pickle )
$25.00
Lobster Roll
( Little Gem Lettuce, Japanese Mayo on a Toasted Butter Roll with Pickled Cucumber )
$36.00
Hours:
| | |
| --- | --- |
| Monday | 12:00 pm – 9:30 pm |
| Tuesday | 12:00 pm – 9:30 pm |
| Wednesday | 12:00 pm – 9:30 pm |
| Thursday | 12:00 pm – 9:30 pm |
| Friday | 11:30 am – 10:30 pm |
| Saturday | 11:30 am – 10:30 pm |
| Sunday | 11:30 am – 9:30 pm |
Reviews: