Roosterfish Venice: A Classic Venice Bar with a Modern Twist
Roosterfish is a full-service bar located at 1302 Abbot Kinney Boulevard in Venice, California. It is one of the original bars on the boulevard, and has been a popular gathering place for locals and visitors alike for over 40 years.
The bar is known for its laid-back atmosphere, friendly staff, and wide selection of drinks. The cocktail menu features a variety of classic and modern cocktails, as well as a selection of beers on tap and by the bottle. There is also a full bar menu, with a variety of appetizers, salads, sandwiches, and entrees.
Roosterfish is a great place to come for a casual drink with friends, or to watch a game on one of the many TVs. The bar also hosts a variety of events throughout the year, including live music, trivia nights, and karaoke.
The current owners of Roosterfish, Mario Vollera and Patrick Lynch, took over the bar in 2019. They have since given the bar a modest facelift, updated the drink menu, and added some new features, such as a dedicated outdoor seating area.
Roosterfish is open seven days a week, from 4pm to 2am. Happy hour is from 3pm to 6pm, Monday through Thursday. Street parking is available in the surrounding area.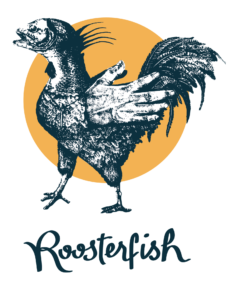 Address:
1302 Abbot Kinney Blvd, Venice, CA 90291
Happy Hour Drinks ( Until 6pm, daily )
Beers
Golden State Cerveza
$7.00
Point the Way IPA
$7.00
Wines
Remole Sangiovese
$12.00
Sauvignon Blanc
$12.00
Sogay Sparking Rose ( CAN )
$12.00
Cocktails
Old Fashion
( bourbon, turbinado, bitters )
$12.00
Fall Old Fashioned
( cinnamon-infused bourbon, turbinado, angostura & chocolate bitters)
$12.00
Grapefruit Gin Fizz
( gin, aperol, prosecco, grapefruit, lime, creole bitters )
$12.00
Toni Penicillin
( toki whisky, lemon, ginger, honey, islay scotch splash )
$12.00
Margarita
( tequila, lime, agave )
$12.00
Well Spirits
( tequila, vodka, bourbon, gin, OR rum)
$10.00
Reservations:
(424) 387-8221
Hours:
| | |
| --- | --- |
| Monday | 4:00PM – 2:00AM |
| Tuesday | 4:00PM – 2:00AM |
| Wednesday | 4:00PM – 2:00AM |
| Thursday | 4:00PM – 2:00AM |
| Friday | 2:00PM – 2:00AM |
| Saturday | 2:00PM – 2:00AM |
| Sunday | 2:00PM – 2:00AM |
Happy hours
Daily till 6 PM

Parking:
Street parking only
Reviews: