A Culinary Oasis of Mexican Flavors in the Heart of Santa Monica
Nestled along the vibrant Fourth Street in Santa Monica, Mercado stands as a testament to the enduring allure of authentic Mexican cuisine. With its rich history, vibrant atmosphere, and commitment to quality, Mercado has been a beloved fixture in the community for over a decade.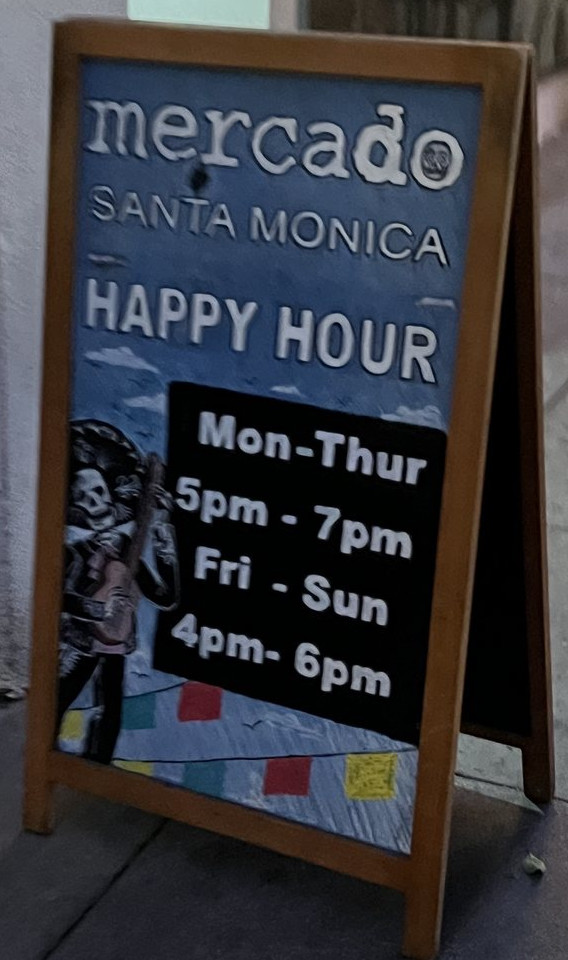 A Culinary Journey Rooted in Tradition
Mercado's origins can be traced back to the bustling culinary scene of Los Angeles, where restaurateur Jesse Gomez sought to create a restaurant that would showcase the rich flavors and traditions of Mexican cuisine. Drawing inspiration from his family's recipes and the vibrant street food culture of Mexico, Gomez envisioned a space where guests could savor the authentic flavors of Mexico in a modern and inviting setting.
In 2011, Mercado opened its doors in Santa Monica, quickly gaining a reputation for its innovative and flavorful dishes. The restaurant's commitment to using only the freshest ingredients and traditional cooking techniques has earned it a loyal following among locals and tourists alike.
A Symphony of Mexican Flavors
Mercado's menu is a captivating exploration of Mexican cuisine, featuring a wide range of dishes that are both familiar and surprising. From classic favorites like tacos and enchiladas to more regional specialties, the restaurant offers something to tantalize every palate.
Unique Dishes that Captivate and Delight
Among Mercado's signature dishes, several stand out for their unique flavors and creativity:
Chicharron tacos: Crispy pork rinds topped with guacamole, salsa verde, and queso fresco

Rajas poblanas: Strips of roasted poblano peppers filled with a creamy cheese mixture

Carnitas nachos: A heaping platter of crispy tortilla chips topped with carnitas, refried beans, queso fundido, and a variety of salsas

Jicama shrimp tacos: Panko-crusted shrimp served on jicama tortillas with chile de árbol aioli, Mexican slaw, and pickled red onions
Happy Hour and Brunch Specials
Mercado offers a variety of happy hour and brunch specials that are sure to please.
Happy hour: ( Wed-Thu, 5-7 pm and Fri-Sun, 4-6 pm )
$3 Tecate
$4 Modelo Especial
$5 Dos Equis Amber
$5 Mercado Margarita
$6 Hibiscus Margarita
Brunch: ( Saturday and Sunday from 11am-4pm )
$10 bottomless mimosas
$12 bottomless bloody marys
$15 brunch entrees
Address:
1416 4th St, Santa Monica, CA 90401
Phone:
(310) 526-7121
Online Ordering:
https://order.online/store/mercado-santa-monica-638/?hideModal=true&pickup=true
Menu:
cocinasycalaveras.com/mercado-sm-menu
Hour Hour
( Wednesday to Thursday – 5:00 pm to 7pm )
( Friday to Sunday – 4:00 pm to 6pm )
Happy Hour Menu ( Menu Subject to Change )
Food
Calabacitas
( mexican-style zucchini, onions, tomatoes, grilled sweet corn, tortillas [v] )
$7.00
Mushroom Choriqueso
( melted cotija, parmesan, oaxaca cheese, mushroom-chorizo, poblanos, fresh chips [veg] )
$10.00
Lela's Ground Beef Tacos
( ground beef, tomatoes, potatoes, lettuce, jack cheese, salsa [ limited availability ] )
$10.00
Dos Gringas ( 2 )
( slow-cooked natural pork al pastor, oaxaca cheese, onions, cilantro, Yxta salsa brava, avocado salsa, flour tortillas )
$11.00
Tacos de Carnitas ( 2 )
( slow-cooked natural pork, guacamole, red onions, cilantro, Yxta salsa brava )
$11.00
Lobster Taco
( lobster, mexican slaw, oaxaca cheese, pico de gallo, chile de árbol aioli )
$11.00
Jimcama Shrimp Tacos ( 2 )
( panko crusted shrimp, jícama tortilla, chile de árbol aioli, mexican slaw, pickled red onions, micro-cilantro )
$13.00
Jimcama Ahi Tacos ( 2 )
( sushi grade tuna, jícama tortilla, smashed avocado, fresnos, chile de árbol aioli, cilantro soy sauce, micro-cilantro )
$14.00
Carnitas Nachos
( mushroom choriqueso, black beans, carnitas, guacamole, tomatoes, onions )
$14.00
Drinks
Beer
Tecate
$4.00 / can
Pacifico
$4.00
21st Amendment "EL Sully"
$5.00 / can
Dos Equis Amber
$5.00 / Draft
Modelo Especial
$5.00 / can
Mercado Margarita
$8.00
Wine
( House White or Red Wine )
$7.00
Flore De Jamaica
$9.00
LA Flaca
( skinny margarita )
$9.00
Hours:
| | |
| --- | --- |
| Monday | Closed |
| Tuesday | 5:00 pm – 9:30 pm |
| Wednesday | 5:00 pm – 9:30 pm |
| Thursday | 4:00 pm – 10:00 pm |
| Friday | 4:00 pm – 10:00 pm |
| Saturday | 4:00 pm – 10:00 pm |
| Sunday | 4:00 pm – 9:00 pm |
Reviews: